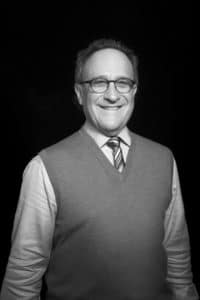 Dr. David Kirsch has been practicing in the metro-Detroit area since 1980. In 1983 Dr. Kirsch opened Birmingham Chiropractic Clinic, P.C., which is now one of the most respected chiropractic practices in the country.
Dr. Kirsch holds a Doctor of Chiropractic degree, Magna Cum Laude, from Life University in Marietta, Georgia (1980) and a Bachelor of Arts degree in History from Wayne State University in Detroit, Michigan (1976).
Dr. Kirsch's professional career includes a storied history of treating A-list celebrities and music icons. He traveled around the world for 14-years as the personal chiropractor to The Beach Boys. He also served as staff chiropractor for the cast and crew of the movie 8 Mile, treating actress Brittany Murphy and other on-and-off-screen personnel. Other high-profile patients past and present include members of the music group Chicago, Gregory Hines, members of Bruce Springsteen's E-Street Band, and many of metro-Detroit's business executives, political leaders, celebrities, and sports figures.
Dr. Kirsch continually strives to improve his treatment approach and techniques. He has taken thousands of hours of post-graduate training. His techniques have evolved over the years to reflect his passion for continuing education. His work is strongly influenced by the following individuals and course work: Gonstead Technique (Mount Horeb, WI); Functional Rehabilitation Diplomate (Certified Chiropractic Rehabilitation Diplomate Candidate); Spinal Stability Training with Dr's. Stuart McGill and Craig Liebenson; Cox Flexion-Distraction Technique with Dr. James Cox; and Dynamic Neuromuscular Stabilization with Dr. Pavel Kolar. Dr. Kirsch is also a certified motion palpation practitioner and a certified provider of the Cox technic.
Outside his chiropractic practice, Dr. Kirsch enjoys a superb reputation for philanthropy. He serves as a board member and prolific fundraising chairman for several capital campaigns. Dr. Kirsch has raised more than $8 million for charitable causes since 1998.
Dr. David Kirsch can be contacted at dkirsch@bchiro.com