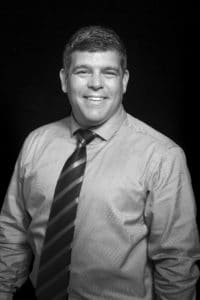 Dr. Sean M. Totten has been a practicing chiropractor since January 2009. He received his doctorate of chiropractic degree from Life University and also majored in biology as an undergraduate. He joined the Birmingham Chiropractic Clinic team in March of 2015 and is excited for the continued opportunity to serve the metro-Detroit community.
Much like his colleagues, Dr. Totten seeks to continually enhance his skill set and knowledge of movement. As the field advances and evolves, it is imperative that those improvements are implemented. It is equally important to seek out teachers and mentors that are the best in their respective fields. Dr. Totten lives by this philosophy, and, as a result has completed hundreds of hours in continuing education and is a certified Level I and II Selective Functional Movement Assessment practitioner.
Dr. Totten served in the United States Marine Corps prior to his education. During his enlistment he was recognized with several awards — most notable were a Letter of Commendation and the Navy Achievement Medal.
When he is not at the office Dr. Totten enjoys spending time with his family and watching them compete in cross country running, wrestling, and baseball. He has also participated and completed many endurance events such as the Ironman Triathlon, marathons, and endurance swimming.
Dr. Sean Totten can be contacted at stotten@bchiro.com